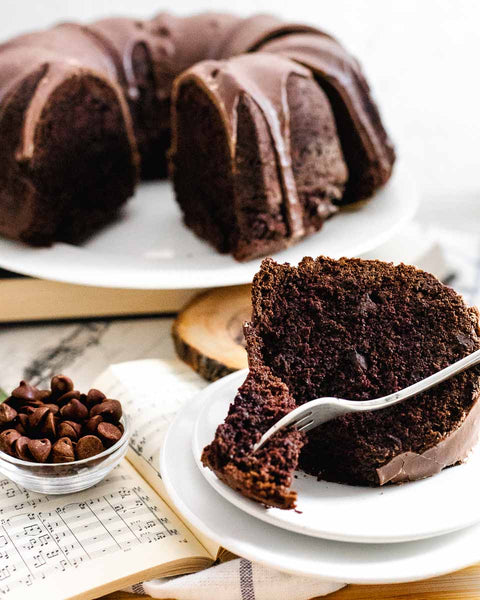 Dark Cocoa Bundt Cake
$42.00
$49.99
you save $7.99
Indulge your tastebuds with our dairy-free and wheat-free Gluten-free chocolate cake, made with only the finest organic and sustainably sourced ingredients. Handmade in small batches, our cocoa bean Bundt is so soft and rich and chocolatey. Plus both the cake and the glaze is perfectly packed with intense chocolate flavor. Your body and your taste buds will be thanking you and begging you for more.
Did you know that eating anything vegan helps cut down on climate change! For example, did you know that nearly half our water sources in the U.S. are dedicated to the animal industry; specifically for drinking, watering crops that animals eat and general cleaning purposes. So by choosing this gluten-free chocolate cake Bundt you're really choosing to better your health and the health of the planet, not to mention the animal cruelty you are helping prevent! Check out this Forbes article for more info about the cost of animal agriculture.
— Shelf life 10 days.
— Store at room temperature
— Feeds 20-24 people.
— We don't write on cakes, piping frosting has chemicals and preservatives we tend to stay away from. No worries, we offer birthday candles that read out "Happy Birthday" and a hand written card free of charge.
Nutritional information
Energy, 330 kcal
Fat, 13.5g (21%)
- Saturated Fat, 3.2g (16%)
- Trans Fat, 0g (0%)
- Cholesterol, 0mg (0%)
Carbohydrate, 52g (18%)
- Added Sugars, 22g
Protein, 8g (16%)
Sodium, 123mg (5%)
Potassium, 348mg (10%)
Calcium, 31mg (3%)
Iron, 3mg (16%)
Vitamin A, 20IU (.5%)
Ingredients: Oat Flour*, Organic Vegan Sugar*, Coconut Oil (Non-GMO), Potato Starch*, Non-Dairy Chocolate Chips*, Cocoa Powder*, Tapioca Flour*, Flaxseed*, Water, Baking Soda*, Xanthan*, Salt*
Frosting: Powdered Sugar, Cocoa Powder,  and sustainably Sourced Palm Oil & Vanilla. 
*Certified Gluten-free
CONTAIN SOY (from Soy Lecithin found in chocolate)