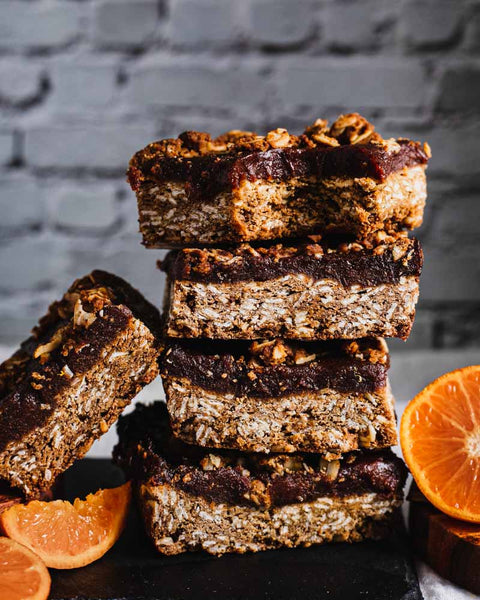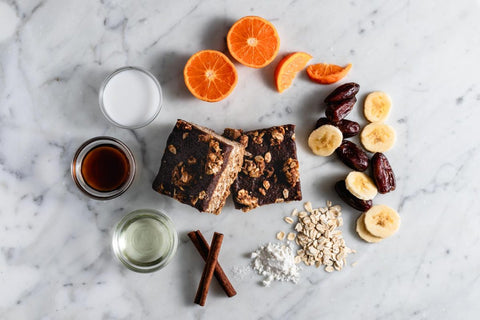 Orange Date Bar
The best of worlds! delicious and healthy!
The orange filled Vegan Soy-free Date Bar is sweetened naturally with bananas and dates. This is the very definition of a healthy snack. With only 4 grams of added sugar and no refined sugar, this is a perfect snack for low glycemic individuals or in that matter, anyone keeping their eye on their sugar intake.
We simmered Mejedool dates with orange juice to make a thick and gooey filling that pairs surprisingly well with our banana oat bread. If your mouth isn't watering yet you're doing something wrong. The Vegan Soy-free Date Bar is one of our favorite inventions yet, Inspired by those with a no refined sugar diet. We want to keep it simple and sensible. Nothing says simple more than a customers' request for a no-refined sugar. So, we couldn't be more excited to share this one with everyone! Be sure to check outs its equally delicious counter parts here.
— Shelf life 14 days
— Store at room temperature
— Individually packed with nutritional labels.
Nutritional information
Energy, 412 kcal
Fat, 17g (26%)
- Saturated Fat, 7g (33%)
- Trans Fat, 0g (0%)
- Monounsaturated Fat, 8g (37%)
- Polyunsaturated Fat, 1g (5%)
- Cholesterol, 27mg (9%)
Carbohydrate, 44g (15%)
- Added Sugars, 22g
Protein, 4g (8%)
Sodium, 106mg (4%)
Potassium, 88mg (3%)
Calcium, 29mg (3%)
Iron, 2mg (9%)
Vitamin A, 380IU (8%)
Ingredients: Oat Flour, Almond Flour, Organic Cane Sugar, Hazelnut Flour, Raspberry Jam, Coconut oil, Xanthan.
Nutrition Facts
Total Fat ... 25g (39%)
Saturated Fat ... 20g (98%)
Trans Fat ... 0g (0%)
Sodium... 271mg (11%)
Potassium... 353 mg (10%)
Cholesterol ... 0mg (0%)
Total Carbohydrate ... 46g (15%)
Dietary Fiber ... 7g (27%)
Sugars ... 23 g
Added Sugars ... 4 g (8%)
Protein ... 6 g (12%)
Vitamin C ... 11 mg (19%)
Vitamin A (i.u.) ... 39 IU (1%)
Calcium ... 46 mg (5%)
Iron ... 2 mg (11%)