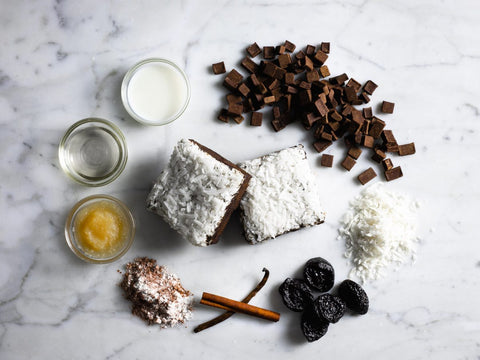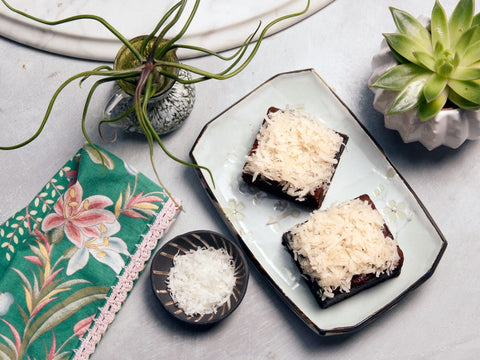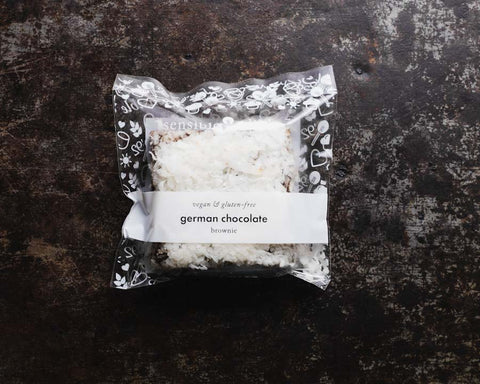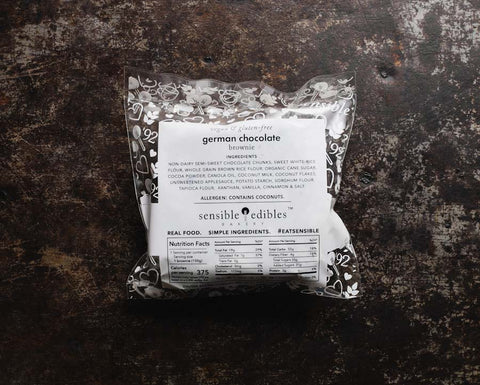 German Brownie
A classic American dessert
That's right! The "German" in the German Gluten-Free Brownies is named after Sam German, the name of the inventor, not so much his background. The American or Englishman (depending on the story you hear) is responsible for this amazing combination of chocolate fudge, coconuts and pecans.
Although nearly perfect, we thought to adjust our recipe to exclude the pecans in order to make a these Gluten free Brownies a more nut-friendly dessert for those with nut allergies. If your thinking "well, what's the point? it has coconuts - that's a nut, isn't it?". We thought the same thing. Until we discovered that the coconut isn't actually a nut at all. Although containing the word "nut", the coconut is botanically classified as a one-seeded drupe, not a true nut. True nuts do not open at maturity to release their seeds. Instead, the seed is exposed when its walls break down naturally. If you'd like to learn more about the coconut plant check out this article.
Nutritional information
Energy, 383 kcal
Fat, 18g (28%)
- Saturated Fat, 7g (39%)
- Trans Fat, 0g (0%)
- Cholesterol, 0mg (0%)
Carbohydrate, 44g (15%)
- Added Sugars, 22g
Protein, 3 g (6%)
Sodium, 308mg (13%)
Potassium, 291 mg (8%)
Calcium, 42mg (4%)
Iron, 3.43mg (19%)
Vitamin A, 129IU (3%)
Ingredients: Non-Dairy Semi-Sweet Chocolate*, Cocoa Powder*, White Rice Flour*, Organic Vegan Sugar*, Coconut Oil (Non-GMO), Coconut Milk, Unsweetened Applesauce, Prunes, Coconuts*, Potato Starch*,Tapioca Flour*, Organic Cinnamon*, Xanthan*, Vanilla & Baking Powder*
*CERTIFIED GLUTEN-FREE
ALLERGEN: CONTAINS SOY LECITHIN (FOUND IN CHOCOLATE).