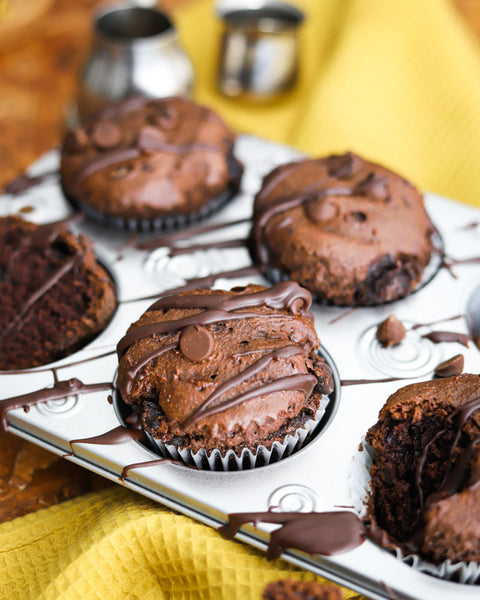 Cocoa Bean Muffin
We're not rated the Healthiest NYC Bakery just for fun & giggles—its all thanks to the clean ingredients in our baked goods.
I know we all wish we were as rich as Jeff Bezos, but honestly, this delicious velvety chocolate Cocoa Bean muffin is even richer. Except our product is cruelty-free! Our Vegan and Gluten-Free Cocoa Bean muffin will blow your mind when you realize no animals or celiac tummies were harmed in the process. We use a combination of gluten-free flours and flax seeds to get that perfect chocolate cake for breakfast texture in your favorite feel-good morning treat!
No, but seriously, chocolate lovers everywhere need to try this. Never feel bad about having chocolate for breakfast again! Ha, take that mom.
Wondering why the healthiest NYC bakery is obsessed with gluten-free baked goods? Because we feel better without it—at least our guts do. Really? you say. "but hasn't it been around for thousands of years in our breads and pasta?" Yes, but nowadays it's highly processed and chemically modified and that doesn't sit well with us—in our conscience or our guts. The food industry adds gluten to our foods to maintain the desired taste, texture and as a binding agent. We can vouch for this, we see it all the time. So, Unless you have celiac, you may be able to tolerate it. But don't be surprised if you have a sensitivity to gluten. Therefore, we recommend a diet free of processed foods, and that often means YUP, you guessed it—gluten-free. Learn more about the gluten-free diet at Hopkins Health Medicine.
—Shelf Life — 3 days at room temperature (refrigerate to prolong shelf-life)
—Individually packaged with nutritional labels
Nutritional information
Energy, 330 kcal
Fat, 13.5g (21%)
- Saturated Fat, 3.2g (16%)
- Trans Fat, 0g (0%)
- Cholesterol, 27mg (9%)
Carbohydrate, 52g (18%)
- Added Sugars, 22g
Protein, 8g (16%)
Sodium, 123mg (5%)
Potassium, 348mg (10%)
Calcium, 31mg (3%)
Iron, 3mg (16%)
Vitamin A, 20IU (.5%)
Ingredients:  Oat Flour*, Organic Vegan Sugar*, Coconut Oil (Non-GMO), Potato Starch*, Non-Dairy Chocolate Chips*, Cocoa Powder*, Tapioca Flour*, Flaxseed*, Water, Baking Soda*, Xanthan*, Salt*
*Certified Gluten-free
CONTAIN SOY LECITHIN (found in chocolate)