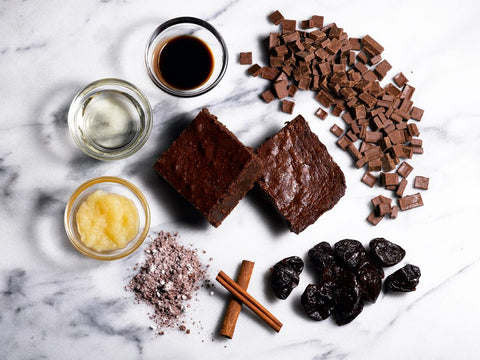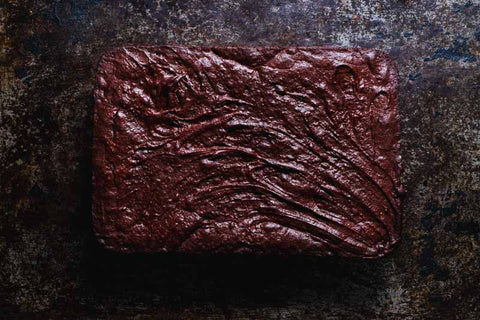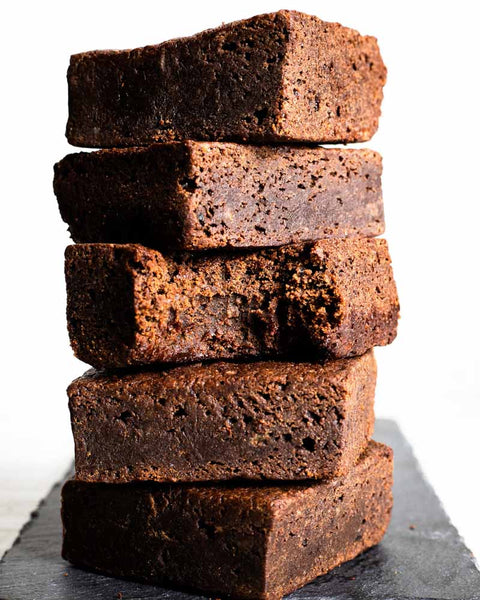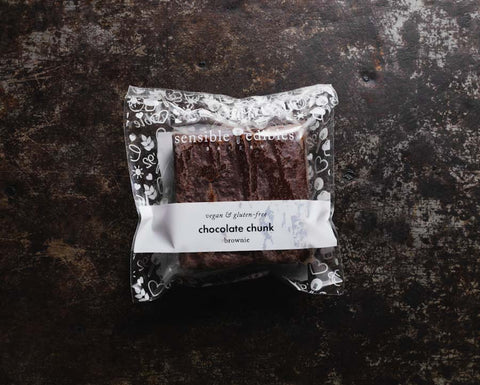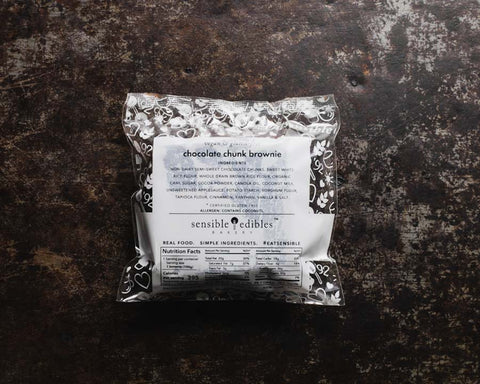 Chocolate Chunk Brownie
Our Vegan Chocolate Chunk Brownie is a hit with just about everyone — really, everyone!
We put so much chocolate in this brownie that we simply thought the eggs and the flour were unnecessary. A happy accident for our Vegans and Gluten-free goers!! This gem gave rise to an entire collection of brownies: German Chocolate, Double Chocolate (more chocolate), Cream Cheese (Tofutti), and Walnut brownies. Thanks to a simple baking hack, topping off your favorite brownie with some well-paired combs really did the trick. So if you're in the mood for a little variation in your life, don't be shy to check out other variations of our vegan chocolate chunk brownie here.
— Shelf life 14 days
— Store at room temperature
— Individually packed with nutritional labels.
Nutritional information
Energy, 330 kcal
Fat, 17g (26%)
- Saturated Fat, 7g (33%)
- Trans Fat, 0g (0%)
- Cholesterol, 27mg (9%)
Carbohydrate, 44g (15%)
- Added Sugars, 22g
Protein, 4g (8%)
Sodium, 106mg (4%)
Potassium, 88mg (3%)
Calcium, 29mg (3%)
Iron, 2mg (9%)
Vitamin A, 380IU (8%)
Ingredients: Semi-Sweet Chocolate*, Cocoa Powder*, Rice Flour*, Organic Cane Sugar*, Coconut Oil (Non-GMO), Coconut Milk, Applesauce (Non-GMO), Prunes, Potato Starch*, Tapioca Flour*, Organic Cinnamon*, Xanthan Gum*, Vanilla, Baking Powder*
*Certified Gluten-free
CONTAIN SOY LECITHIN (found in chocolate)