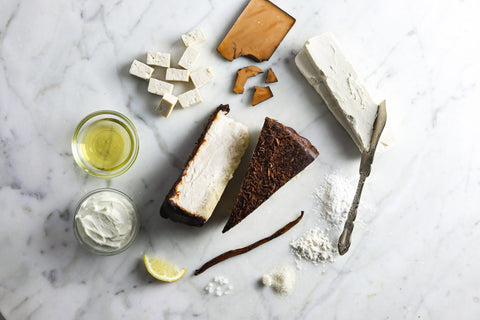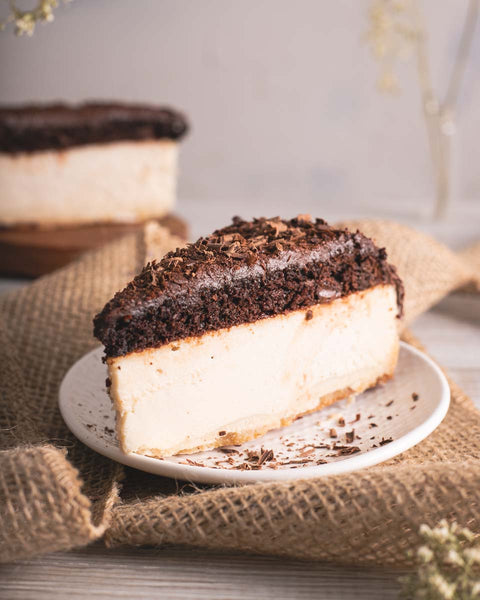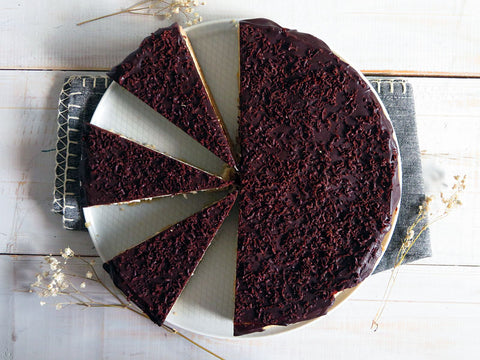 Chocolate Cheesecake
Cheesecake hold the cheese please!
Vegan and Gluten-Free friends alike can rejoice together because we are serving the finest Vegan Gluten-Free Chocolate Cheesecake in the tristate area! We know how hard it is finding that perfect fluffy and creamy texture in a vegan cheesecake, and getting that crisp crumbly crust without gluten takes skill, but we got it down pat.
Would you believe it was actually trial and error that led us to our best-selling Vegan Gluten Free Chocolate Cheesecakes in the first place? When our plain cheesecakes were mysteriously cracking out of the oven, we made lemonade out of lemons…or actually chocolate cheesecake out of plain cheesecake. We later discovered that the rapid temperature change when removing them from the oven caused the cracks; we stopped doing that, but we haven't stopped the chocolate cheesecakes! Our cheesecake recipe includes only the best nutritious ingredients such as tofu and coconut cream, and comes coated in chocolate ganache and chocolate shavings, making this Vegan Gluten-Free Chocolate Cheesecake quite the show-stopper. Don't like chocolate? try a plain cheesecake and top it off with your choice of fruit spread—strawberry is my personal fav!
Why choose vegan?
Did you know that eating anything vegan helps cut down on climate change! For example, did you know that nearly half our water sources in the U.S. are dedicated to the animal industry; specifically for drinking, watering crops that animals eat and general cleaning purposes. So by choosing this

Vegan & Gluten-free cake Cheesecake

you're really choosing to better your health and the health of the planet, not to mention the animal cruelty you are helping prevent! Check out this

Forbes article

for more info about the cost of animal agriculture.
— Shelf life 10 days.
— Please refrigerate.
— Feeds 20-24 people.
— We don't write on cakes, piping frosting has chemicals and preservatives we tend to stay away from. No worries, we offer birthday candles that read out "Happy Birthday" and a hand written card free of charge.
.
Nutritional information
Energy, 440 kcal
Fat, 29g (45%)
- Saturated Fat, 16g (81%)
- Trans Fat, 0g (0%)
- Cholesterol, 0mg (0%)
Carbohydrate, 41g (14%)
- Added Sugars, 23g
Protein, 5g (9%)
Sodium, 274mg (11%)
Potassium, 230mg (7%)
Calcium, 28mg (2%)
Iron, 1mg (5%)
Vitamin A, 2 IU (<0%)
Ingredients: Oat Flour*, Coconut Flour*, Vegan Cream cheese (Soy), Organic Coconut Cream,Coconut Oil, Tofu (Soybeans), Organic Sugar*, Lemon Juice, Non-Dairy Chocolate*, Rice Flour*, Potato Starch*, Tapioca Flour*, Xanthan*, Vanilla, Cornstarch*, Salt*.
*Certified Gluten-free
CONTAIN SOY.