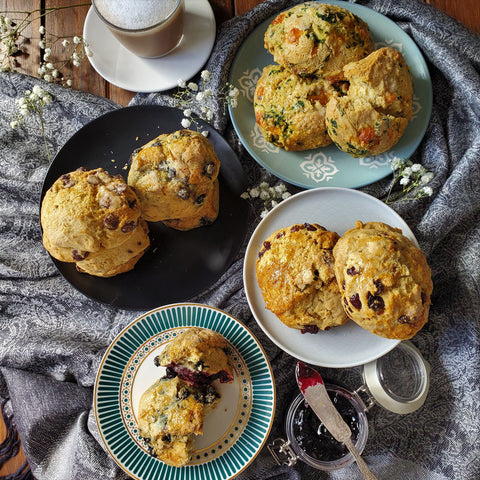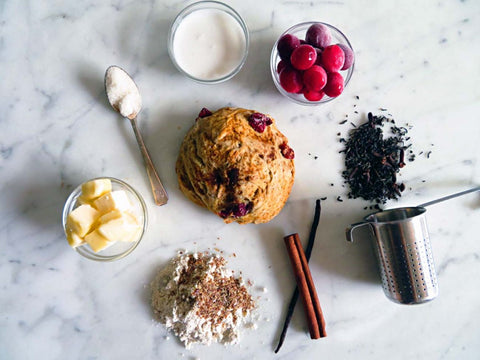 Cranberry Chai Scone
Namaste your breakfast?
If you want to Zen out your taste buds, the Vegan Cranberry Chai Scone is the way to go! With an emphasis on the chai! Some over-the-counter chai mixtures tend to have added ingredients that most can't pronounce. So leave it Sensible to make their own. Our home mixture is made up of cinnamon, cardamom, ginger, allspice, and a pinch of cloves. So, if not looking for a sugar-rush in the morning then this awesome combination will make a great breakfast alongside your coffee or tea (possibly chai tea) with only 2 grams of sugar. Check out our other scone flavors; Cheddar Kale and Blueberry Rosemary
Check out this DYI Chai spice recipe we found on Fit Foodie and have been using ever since on our Vegan Cranberry Chai Scone below—you can add to anything to make Chai-like!
2 parts organic ground cardamom, 2 parts organic ground all spice, 2 parts organic ground nutmeg, 4 parts organic ground cinnamon, 2 parts organic ground cloves, 6 parts organic ground ginger
— Diabetics beware— although these scones are free of sugar they still contain carbohydrates that may increase your blood sugar level.
— Shelf life 4 days
— Individually packed with nutritional labels.
Nutritional information
Energy, 435 kcal
Fat, 25g (39%)
- Saturated Fat, 12g (58%)
- Trans Fat, 0g (0%)
- Cholesterol, 0mg (0%)
Carbohydrate, 52g (18%)
- Added Sugars, 0g
Protein, 7g (14%)
Sodium, 564 mg (24%)
Potassium, 391 mg (11%)
Calcium, 110 mg (11%)
Iron, 3mg (19%)
Ingredients: Organic All-Purpose Flour, Organic Coconut Cream. Organic Vegan Butter [Soy Free], Organic Erythritol, Cranberries, Flax Seed, Cinnamon, Cardamom, Ginger, Allspice, Cloves, Nutmeg, Baking Powder, Salt.
ALLERGEN: CONTAINS COCONUTS & WHEAT.
Whats Erythritol? Erythritol is a naturally occurring sweetener derived from plant sources that does not raise your sugar levels.