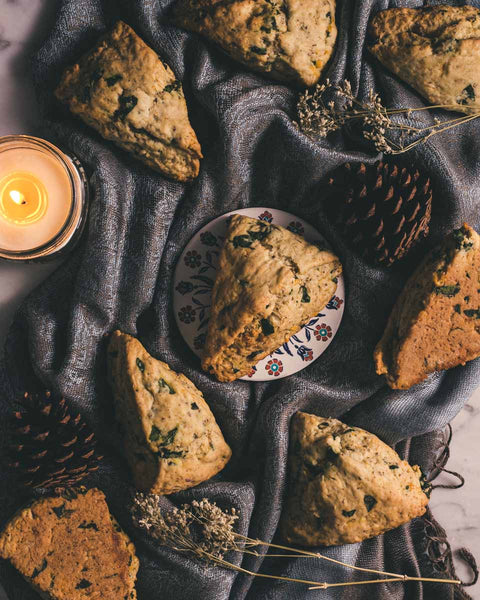 Cheddar Kale Scone
Savory never tasted better.
Skip the bacon egg & cheese. Take the deepest breath you've taken all day. Go vegan. Smile. Choose yourself. Choose your health. Finally, thank us for getting you on this delicious Vegan Sugar-free Cheddar Kale Scone. You will not regret it, that's a promise.
I'm constantly checking on my sugar and protein intake, so I was delighted to see the nutritional facts. This Vegan Sugar-free Cheddar kale scone totals is pure heaven, with no sugar, and a heck of a lot of protein (8 grams) I was sold.
Our delightful and fluffy scone is made with coconut cream (think fluffiness) and vegan butter —if you ask me, it's better than actual butter. So, if not looking for a sugar-rush in the morning then this awesome combination of kale and cheddar cheese—vegan cheddar that is! will make a great breakfast alongside your coffee or tea with literary zero grams of sugar. Did you know that choosing a vegan diet will save, on average, about 200 animals per year #veganforanimals. Check out our other scone flavors; Cranberry Chai and Blueberry Rosemary
— Diabetics beware. Although these scones are free of sugar they still contain carbohydrates that may increase your blood sugar level.
— Shelf life 4 days
— Individually packed with nutritional labels.
Nutritional information
Energy, 625 kcal
Fat, 32g (49%)
- Saturated Fat, 16g (83%)
- Trans Fat, 0g (0%)
- Cholesterol, 0mg (0%)
Carbohydrate, 53g (18%)
- Added Sugars, 0g
Protein, 8g (17%)
Sodium, 619mg (26%)
Potassium, 478mg (14%)
Calcium, 110 mg(11%)
Iron, 4mg (20%)
Ingredients: Organic All-Purpose Flour, Organic Coconut Cream, Organic Vegan Butter [Soy Free], Organic Erythritol, Vegan Cheddar [Soy Free], Spinach, Kale, Flaxseed, Baking Powder, Salt, Cinnamon.
ALLERGEN: CONTAINS COCONUTS, WHEAT.
Whats Erythritol? Erythritol is a naturally occurring sweetener derived from plant sources that does not raise your sugar levels.