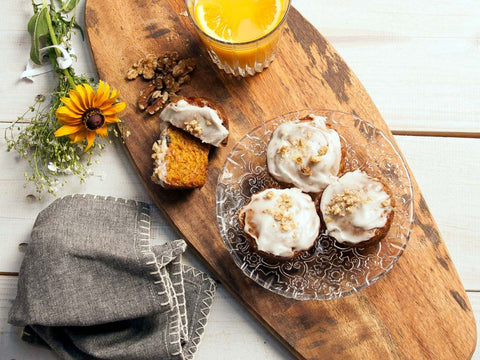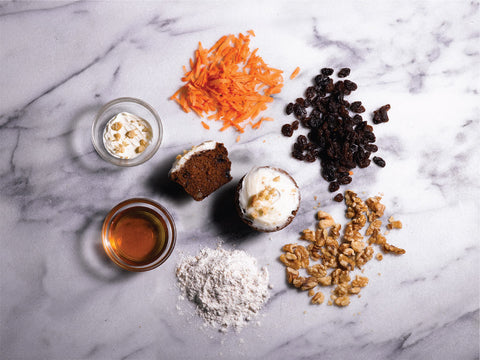 Carrot Walnut w/ Cream Cheese Muffin
With our Vegan Carrot Walnut Muffin, you can have your cake and eat it too!
With 80% of your daily value of vitamin A, 5 grams of plant protein. And all the nutrients and vitamins like biotin and potassium, you can be sure you're making the right choice when you choose our Vegan Carrot Walnut Muffin. Our batter is perfectly spiced and jam-packed with so many carrots we had to get a restraining order against Bugs Bunny to keep him away! Lol. Check out its equally delicious counter part the Vegan Gluten-free Banana Walnut Muffin.
Support veganism, even if its just this snack. Every second 1-2 acres of Amazon Rainforest is wiped clear for animal agriculture use. That is about 90% of deforestation is due to livestock. The cherry on top —this purchase will plant one tree back in the Amazon Rainforest with the help of our partners at OneTreePlanted.
— Shelf life 4 days
— Individually packed with nutritional labels.
Nutritional information
Energy, 391 kcal
Fat, 3g (15%)
- Saturated Fat, 7g (33%)
- Cholesterol, 0mg (0%)
Carbohydrate, 50g (17%)
- Added Sugars, 23g
Protein, 3g (7%)
Sodium, 99mg (4%)
Potassium, 1166mg (33%)
Calcium, 459mg (45%)
Iron, 2mg (13%)
Vitamin A, 3870IU (77%)
Ingredients: Organic All-Purpose Flour, Organic Cane Sugar, Brown Sugar, Coconut Milk, Canola Oil, Carrots, Walnuts, Raisins, Cinnamon, Molasses, Salt, Vanilla, Baking Powder
Frosting: Tofutti Vegan Cream Cheese (SOY), Vegan Butter (Soy Free) & Powdered Sugar.
ALLERGEN: CONTAINS WALNUTS, SOY, WHEAT