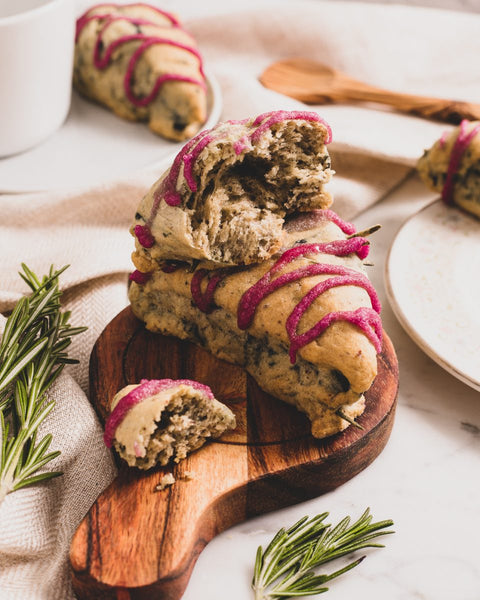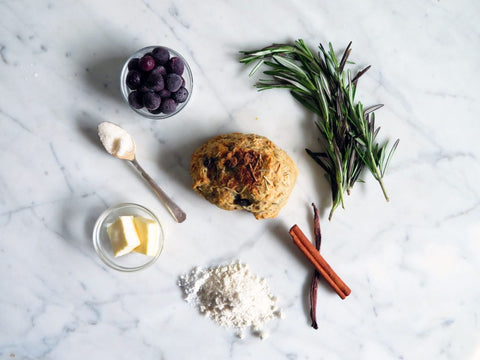 Blueberry Rosemary Scone
Can you smell that?
Our Vegan Blueberry Rosemary sugar-free scone is made with fresh organic rosemary, finely diced, and then kneaded into our vegan bread batter — releasing an aromatic component to your breakfast. Rosemary can really stand out. Rightfully so, this Mediterranean herb is quite the addition to any savory snack. Let alone this light and fluffy vegan and sugar-free scone. The herbal addition gives new life to a rather plain blueberry scone, at least we think so. So, if not looking for a sugar-rush in the morning then this awesome combination will make a great breakfast alongside your coffee or tea. Keep in mind the only sugar you'll taste in this Vegan Blueberry Scone is from the natural berries and the organic erythritol. What's erythritol you ask? Erythritol is a naturally occurring sweetener derived from plant sources. Unlike those other so-called "sugar substitutes" you'll read about, Erythritol does not raise your sugar level. Learn more about the science behind erythritol from our gal pal at What Sugar Blog. Check out some of our other erythritol-based goodies like the diabetic friendly Chocolate Keto Cake.
— Diabetics beware— although these scones are free of sugar they still contain carbohydrates that may increase your blood sugar level.
— Shelf life 4 days
— Individually packed with nutritional labels.
Nutritional information
Energy, 481 kcal
Fat, 30g (46%)
- Saturated Fat, 15g (75%)
- Trans Fat, 0g (0%)
- Cholesterol, 0mg (0%)
Carbohydrate, 62g (21%)
- Added Sugars, 0g
Protein, 7g (14%)
Sodium, 683mg (28%)
Potassium, 446mg (13%)
Calcium, 130mg (13%)
Iron, 4mg (21%)
Ingredients: Organic All-Purpose Flour, Organic Coconut Cream, Organic Vegan Butter [Soy Free], Organic Erythritol, Blueberries, Rosemary, Flax Seed, Baking Powder, Salt, Cinnamon.
ALLERGEN: CONTAINS COCONUTS & WHEAT.
Whats Erythritol? Erythritol is a naturally occurring sweetener derived from plant sources that does not raise your sugar levels.