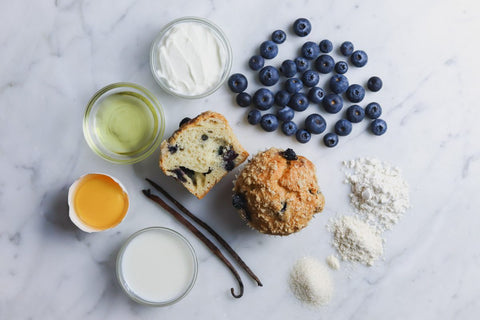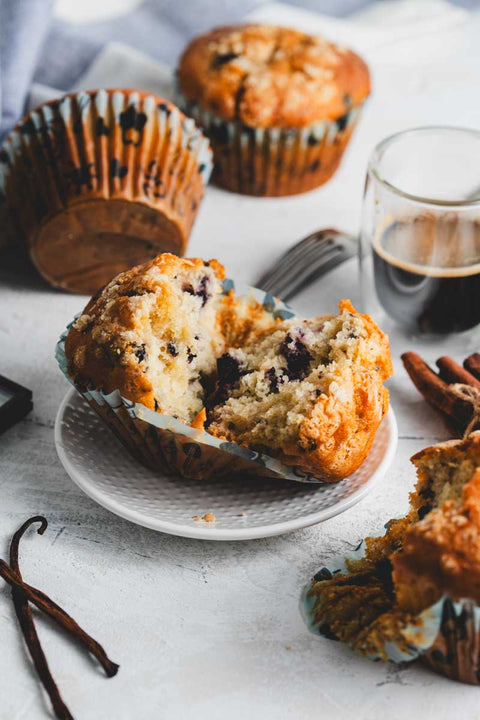 blueberry crumb muffin
We're super proud of our crumbly, creamy crumble topping in these Blueberry Gluten-free Nut-free muffins. They are moist, tender and muffin packed with blueberries. We think that whether you eat "gluten-free" or not, you'll appreciate its homemade goodness. This muffin is the real deal—no preservatives, just gluten-free rice flour, blueberries and natural ingredients you recognize—with a crumb topping that's to die for, not to mention made with organic vegan butter. Want more muffin goodness? check out our full muffin roster to find more Vegan, Soy-free, Gluten-free and nut-free muffins.
-Shelf-life 4 days.
-Store at room temperature or refrigerate to extend shelf life.
-Each item is individually packed and labelled with nutritional information.
Nutritional information
Energy, 420 kcal
Fat, 16g (25%)
- Saturated Fat, 2g (9%)
- Trans Fat, 0g (0%)
- Cholesterol, 70mg (23%)
Carbohydrate, 67g (22%)
- Added Sugars, 32g
Protein, 10g (19%)
Sodium, 106mg (4%)
Potassium, 485mg (14%)
Calcium, 35mg (4%)
Iron, 5mg (27%)
Vitamin A, 150IU (3%)
Ingredients: Certified Gluten-Free Rice Flour*, Organic Cane Sugar*, Canola Oil, Yogurt, Blueberries, Eggs, Potato Starch*, Tapioca Starch*, Corn Starch*, Palm Oil (Sustainably sourced), Baking Soda, Baking Powder, Vanilla, Vinegar, Xanthan
*Certified Gluten-free
ALLERGEN: CONTAINS EGGS, MILK.
What's xanthan? Xanthan is a plant based fermented sugar. It prevents ingredients from separating.