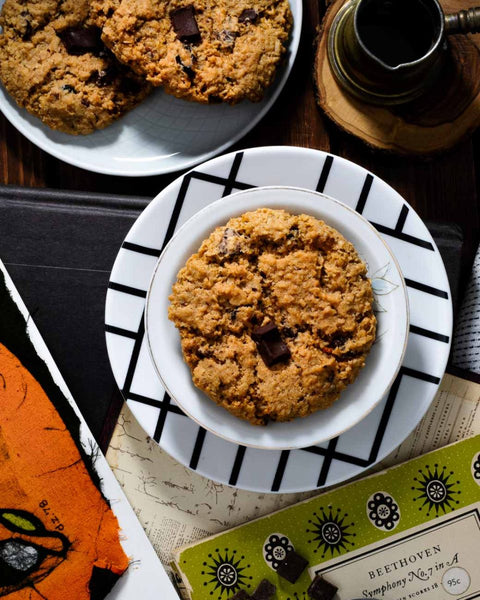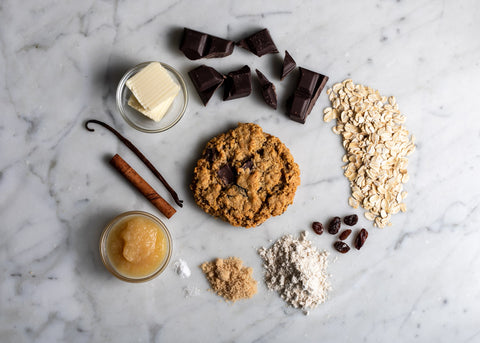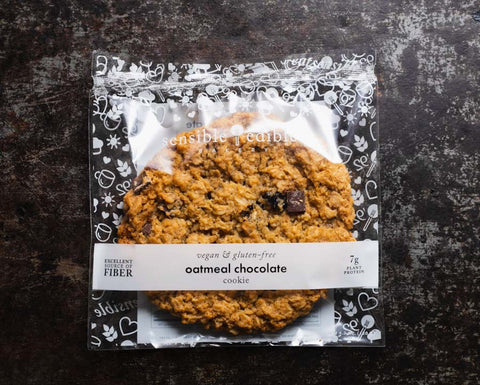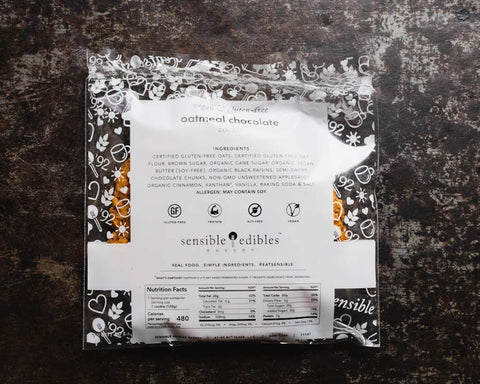 Oatmeal Chocolate Chunk Cookie
We don't need butter or gluten to make the best cookie you've ever had—hint hint..this Allergy Free Oatmeal Chocolate Cookie. Don't believe us? Our slightly crispy outside and soft chewy inside Oatmeal Cookie will make you eat your words! Right after you're done scarfing the cookie down, of course.
Our Vegan and Gluten Free Oatmeal Chunk Cookie has 7 grams of plant protein and 5 grams of fiber. This makes it a scrumptious treat for health nuts and sweet tooths to share! But it's so good they probably won't want to…
Support veganism, even if its just this Allergy Free Cookie. Every second 1-2 acres of Amazon Rainforest is wiped clear for animal agriculture use. And a whopping 91% of deforestation is due to our livestock. The cheery on top —this purchase will plant one tree back in the Amazon Rainforest with the help of our partners at OneTreePlanted.
Check out variations of this product like the Apple Oatmeal Raisin Cookie here.
Nutritional information
Energy, 490 kcal
Fat, 22g (34%)
- Saturated Fat, 7g (35%)
- Trans Fat, 0g (0%)
- Cholesterol, 0mg (0%)
Carbohydrate, 64g (22%)
- Added Sugars, 30g
Protein, 8g (15%)
Sodium, 28mg (14%)
Potassium, 277mg (8%)
Calcium, 36mg (4%)
Iron, 2mg (14%)
Vitamin A, 1 IU (<0%)
Ingredients: Certified Gluten-Free Rolled Oats, Certified Gluten-Free Oat Flour, Organic Vegan butter (Soy Free), Organic Vegan Sugar, Vegan Brown Sugar, Non-Dairy Chocolate Chunks, Organic Black Raisins, Unsweetened Applesauce, Baking Soda*, Vanilla, Organic Cinnamon*
*Certified Gluten-free
CONTAINS SOY LECITHIN (found in chocolate)