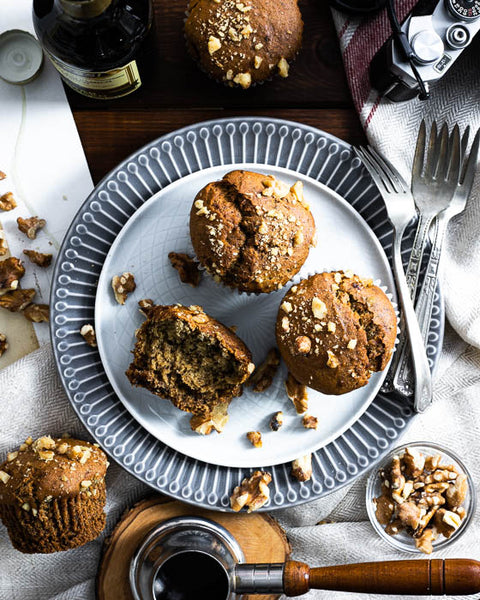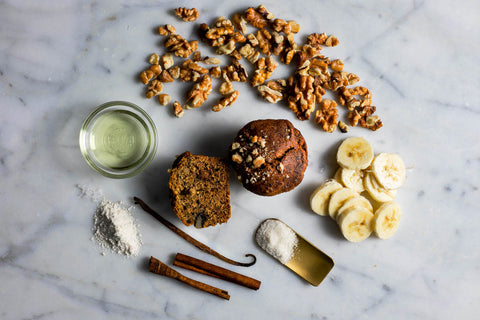 Banana Walnut Muffin
If your wondering WTF is going on here? How did we turn this banana walnut recipe into this delightful vegan gluten-free Banana Walnut Muffin?
Well as it turns out, some recipes don't even call for eggs or milk or any animal by-product. #crueltyfree
For this reason, we simply traced the source of ingredients to make sure it's 100% vegan, meaning the ingredients are not processed by animal bone char or any other ridiculous things they're doing out there. Yuk!
While we are on the topic here's a well-known secret amongst vegan bakers, bananas are one of the best egg replacements — a simple 1: 1 ratio; one banana for one egg will do the trick. So next time you decide to bake up a wild concoction in your kitchen — as we often do, consider skipping the eggs and just add bananas. Voilà!
Finally, there is nothing more exciting about using plant-based alternatives, because not only are you looking out for our furry little friends but it also decreased environmental pollution! so, if you are eating vegan banana walnut muffin, hats off to you! and if you are a full-blown vegan then more power to you — your saving the world! also, did you know that studies have shown that diets enriched with walnuts tend to lower blood pressure and cholesterol levels.
— Shelf life 4 days
— Individually packed with nutritional labels.
Nutritional information
Energy, 401 kcal
Fat, 17g (26%)
- Saturated Fat, 10 g (54%)
- Cholesterol, 0mg (0%)
Carbohydrate, 60g (20%)
- Added Sugars, 19g
Protein, 7g (14%)
Sodium, 292mg (12%)
Potassium, 446mg (13%)
Calcium, 28mg (3%)
Iron, 11.67 mg (65%)
Vitamin A, 52.66IU (1%)
Ingredients: Certified Gluten-free Oat Flour, Organic Bananas, Organic Cane Sugar, Brown Sugar, Coconut Milk, Canola Oil, Walnuts, Cinnamon, Vegan Butter, Salt, Vanilla Flavor, Baking Powder
 ALLERGEN: CONTAINS WALNUTS.