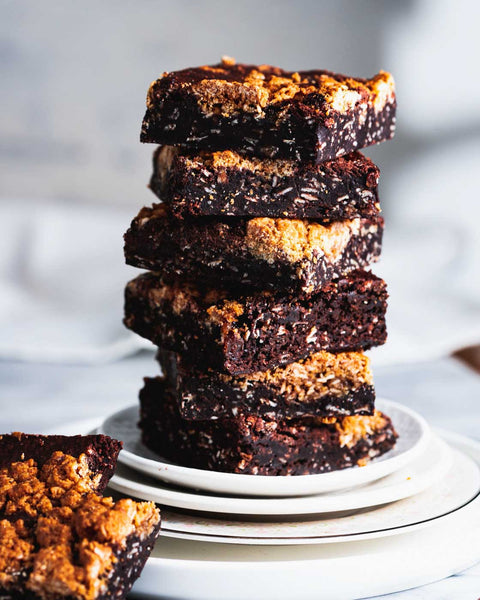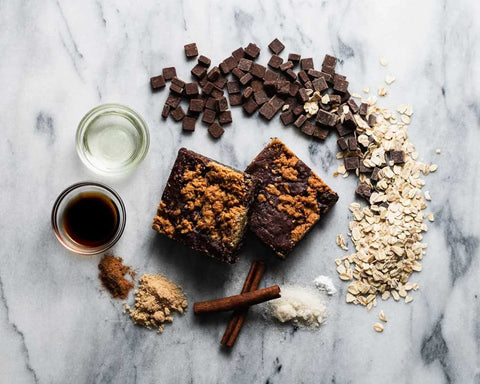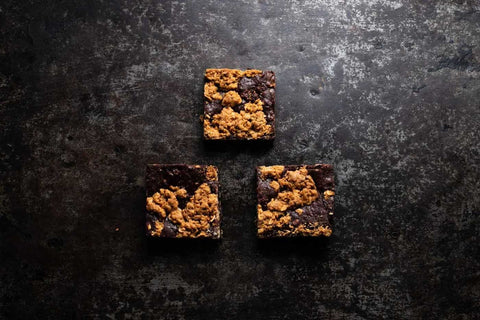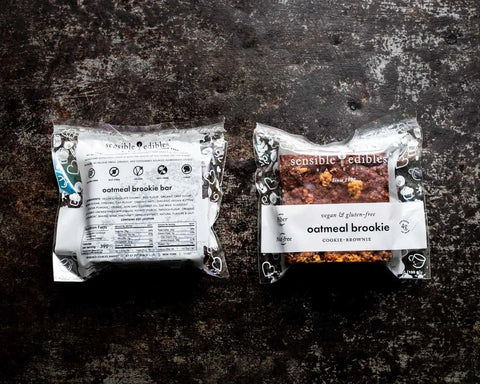 Oatmeal Brookie
Introducing our mouthwatering creation, the Vegan Gluten-free Oatmeal Brookie – a delightful fusion of an oatmeal cookie and a decadent brownie. This extraordinary treat is not only irresistibly delicious but also caters to various dietary needs, including vegan, gluten-free, soy-free, and nut-free options. Packed with a good source of fiber and protein it's the perfect guilt-free indulgence for anyone looking to satisfy their sweet tooth while maintaining a healthy lifestyle.
Our Oatmeal Brookie is 100% vegan, ensuring that no animal products are used in its creation. We also understand the importance of accommodating those with allergies or sensitivities. Therefore, our brookie is completely free from soy, nuts, and gluten, providing a worry-free treat for everyone to enjoy. Aside from its delectable taste, our Oatmeal Brookie is a nutritional powerhouse. It's a fantastic source of fiber, aiding in digestion and promoting a healthy gut. Plus, it's packed with protein, which is essential for muscle repair and growth. Indulging in this delightful treat will not only satisfy your cravings but also contribute to your overall well-being. Try our vegan gluten-free Oatmeal Brookie today and experience the blissful marriage of flavors in every bite.
#brownielovescookie
Our Oatmeal Brookie is crafted with love and care, using only the finest ingredients. We start with a base of wholesome gluten-free oats, which provide a rich texture and a satisfying bite. The oats are expertly combined with a luscious brownie batter, creating a harmonious blend of flavors that will leave your taste buds dancing with joy.
Whether you're seeking a delectable snack, a treat to share with loved ones, or a guilt-free pleasure to enjoy any time of day, our Oatmeal Brookie is the perfect choice. With its irresistible combination of oatmeal cookie and brownie goodness, along with its vegan, gluten-free, soy-free, and nut-free qualities, it's a treat that brings joy to everyone.
Nutritional information
Energy, 390 kcal
Fat, 18g (26%)
- Saturated Fat, 7g (33%)
- Cholesterol, 0mg (0%)
Carbohydrate, 58g (19%)
- Added Sugars, 34g
Protein, 5g (9%)
Sodium, 364mg (15%)
Potassium, 29mg (7%)
Calcium, 42mg (4%)
Iron, 2mg (11%)
Vitamin A, 380IU (8%)
Ingredients: Semi-Sweet Chocolate* , Cocoa Powder*, Rice Flour*, Organic Cane Sugar*, Coconut Oil (Non-GMO), Coconut Milk, Applesauce (Non-GMO), Prunes, Brown Sugar, Organic Black Raisins, Unsweetened Applesauce, Cinnamon, Potato Starch*, Tapioca Flour*, Organic Cinnamon*, Xanthan Gum*, Vanilla, Baking Powder*
*Certified Gluten-free
CONTAIN SOY LECITHIN (found in chocolate)