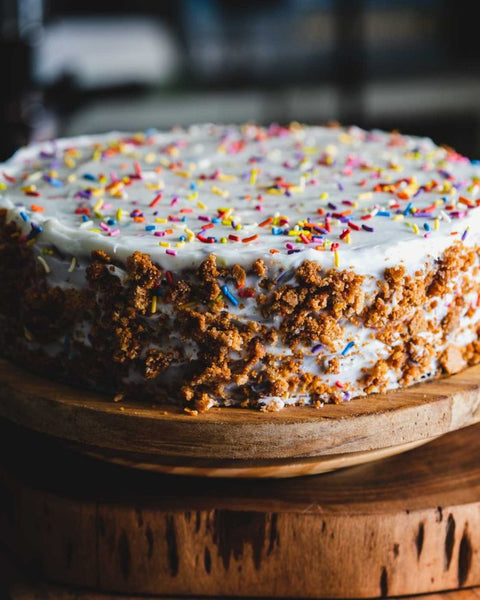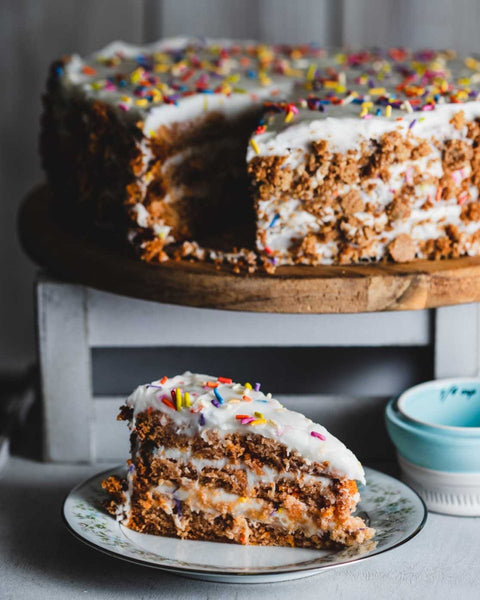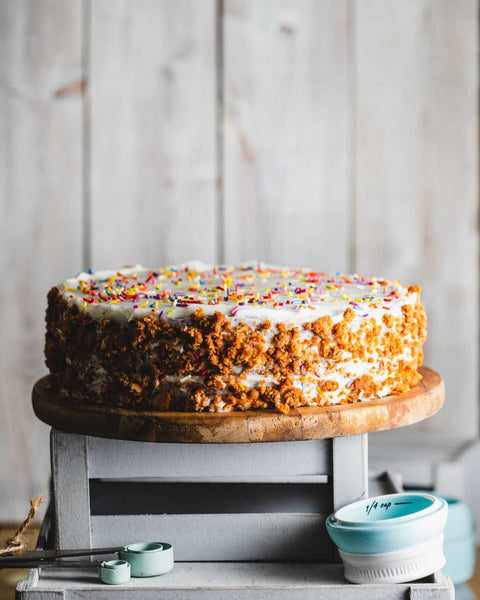 10 inch vanilla birthday cake
Introducing our delectable creation: The Divine Delights Vegan-Gluten-Free Allergy-Friendly Birthday Cake! 🎂🌱
This culinary marvel is a triumph of taste, catering to your every dietary need without compromising on the indulgent, mouthwatering experience you deserve. Crafted with meticulous care and passion, this cake is the epitome of guilt-free decadence.
But what truly sets this cake apart is its exceptional inclusivity. We've left no dietary stone unturned, ensuring that this masterpiece embraces the needs of vegans, gluten-intolerant individuals, and those with various allergies. It's a delightful symphony of thoughtfully selected, high-quality ingredients, free from animal products, gluten, and the most common allergens.
Its mere presence at any birthday celebration is an instant conversation starter, captivating eyes and arousing taste-driven curiosity. Imagine the looks of astonishment when your guests discover they're about to embark on a gastronomic adventure that not only satisfies their cravings but also respects their dietary preferences.
So go ahead, take a leap into a world of guilt-free indulgence, where dietary restrictions no longer mean missing out on life's sweetest moments. With our Divine Delights Vegan-Gluten-Free Allergy-Friendly Birthday Cake, you can celebrate with abandon, knowing that every delectable bite is a testament to your commitment to health, inclusivity, and sheer epicurean pleasure.
Warning: This may cause spontaneous exclamations of delight and intense cravings for seconds. Enjoy responsibly, or not. 😉
Special Occasion? Ask for complimentary candles and customize a handwritten card upon check-out.
— Shelf-life 10 days.
— Feeds 20-24 people. 
— Please Refrigerate.
— We don't write on cakes, piping frosting has chemicals and preservatives we tend to stay away from.  Don't panic just yet, we got you covered, we offer birthday candles that read out "Happy Birthday" and a handwritten card free of charge.
Nutritional information
Energy, 490 kcal
Fat, 32g (50%)
- Saturated Fat, 3g (15%)
- Trans Fat, 0g (0%)
- Cholesterol, 0mg (0%)
Carbohydrate, 52g (18%)
- Added Sugars, 38g
Protein, 2g (4%)
Sodium, 270mg (11%)
Potassium, 401 mg (11%)
Calcium, 88 mg (8%)
Iron, 5mg (3%)
Vitamin A, 7776IU (155%)
Ingredients: Organic cane Sugar, Coconut Milk, Gf Rice Flour, GF Potato Starch, Gf Cocoa Powder, Organic Vegan Butter, Flax Seed, Water, Gf Tapioca flour, GF Corn starch, Vinegar, Gf Baking Powder, Gf Baking Soda, Salt, Xanthan, Dietary Fiber
Frosting:  Organic Vegan Butter (Soy Free), Palm oil & Powdered Sugar.
CONTAINS NO MAJOR ALLERGENS.